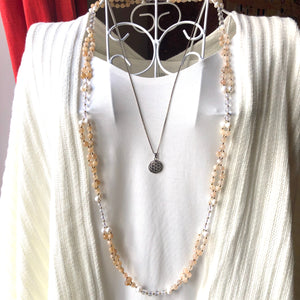 Aria Mala Atelier
Tantric Mala Necklace: Pearl (6 mm), Gold Filled Beads (6 mm) with 3 mm Gold Filled Connector Beads
Tantric mala necklaces are inspired by the Kundalini Yoga practice and the teachings of Yogi Bhajan, the master of Kundalini Yoga. Yogi Bhajan made a reference to a certain geometrical design that contained the Z-Tantric energy in the form of a necklace used in ancient times and used by spiritual masters to enhance meditation.
Due to its unique design tantric necklace reflects Tantric energy similar to that of White Tantric. Yogi Bhajan said "Whoever wears a Tantric Necklace shall be blessed by me personally and shall continuously receive the healing, comforting and elevating energy of White Tantric Yoga"
This tantric necklace is combination of high quality (6 mm) pearl, gold filled beads (6 mm) with 3  mm. gold filled connector beads that are strung by me with the inspiration of White Tantric experience.
---
More from this collection