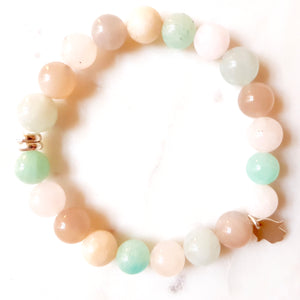 Aria Mala Atelier
Amazonite, Aquamarine, Sunstone, Sterling Silver Hamsa Charm Yoga Bracelet
"If you are always trying to be normal you will never know how amazing you can be" Maya Angelou

Amazonite, Aquamarine, Sunstone, Jade malabeads bracelet:

Amazonite helps boost self confidence & self validation, it releases emotional grief transform it to creativity.
Aquamarine shields the aura and aligns the chakras, clearing the throat chakra and bringing communication from a higher plane.
Sunstone is a joyful, light-inspiring stone. If life lost its sweetness Sunstone will restore it help you to nurture yourself...
Jade is all about the joy that can be achieved through connections with all living beings

All malas & bracelets are smudged (cleansed) by Sage with love and positive vibes before delivery.

Width: 16 cm (S size), 18 cm (M size), 20 cm (L size) Bead diameter: 8 mm; Sterling silver (925 percent). Hamsa Hand (Fatima's hand) symbolizes the Hand of God. In all faiths it is a protective sign. It brings its owner happiness, luck, health, and good fortune...
---
More from this collection