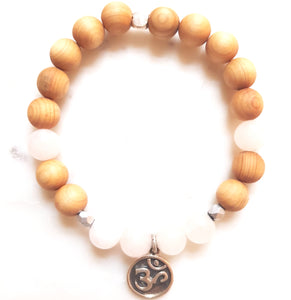 Aria Mala Atelier
Chidananda (Consciousness-Bliss) Pink Jade, Sandalwood, Sterling Silver OM Charm Yoga Bracelet
"To offer no resistance to life is to be in a state of grace, ease and lightness" Eckhart Tolle

Jade is all about the joy that can be achieved through connections with all living beings. Especially relieves anxiety and ease the emotions caused by fear. Compassion, Heart chakra...
Sandalwood has been considered as the perfect meditation tool for thousands of years.

All malas & bracelets are smudged (cleansed) by Sage with love and positive vibes before delivery.

Width: 16 cm (S size), 18 cm (M size), 20 cm (L size) Bead diameter: 8 mm; Sterling silver (925 percent) Yoga figure. In Hinduism, OM is one of the most important spiritual symbols. It refers to Atman (soul, self within) and Brahman (ultimate reality, entirety of the universe, truth, divine, supreme spirit, cosmic principles, knowledge).
---
More from this collection