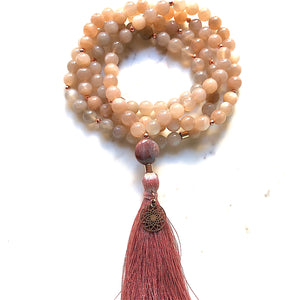 Aria Mala Atelier
Sun Stone Mala Beads, Mandala Charm, 108 beads, Yoga Schmuck
Custom Mala
Sunstone, Carnelian Agate malabeads (Traditional 108* beads + 1 guru bead + 1 mandala sterling silver charm, 1 silk tassel) necklace:
Sunstone
Sunstone is a joyful, light-inspiring stone. It instills joie de vivreand good nature and heightens intuition. If life lost its sweetness, Sunstone will restore it help you to nurture yourself. Clearing all the chakras and bringing in light and energy, this stone allows the real self to shine through happily. Traditionally it linked to benevolent gods and to luck and good fortune. This is an alchemical stone that brings about profound connection to light and the regenerative power of the sun during meditation and in everyday life.
Sunstone is extremely useful for removing 'hooks' from other people for tie-cutting in case your energy is drained by a relationship. Keep the sunstone with you at all times if you have difficulty to say 'No' and continually makes sacrifices for others. It facilitates self-empowerment, independence and vitality.
Emotionally, sunstone acts as an antidepressant and lifts dark moods, increases self-worth and confidence. Sunstone lifts any depression.
Carnelian Agate (Guru bead)
Agate's most noticeable properties are balancing yin/yang energy, courage, protection, healing, and calming, it's a crystal of dreams, intuition, and luxury: can be utilized in meditation and spiritual transformation. Emotionally, this crystal overcomes negativity and bitterness of the heart. It heals inner anger, fostering love and the courage to start again. It is useful for any kind of emotional trauma. Spiritually, Agate raises consciousness and links into collective consciousness and awareness of the oneness of life. It's a healing crystal of crown chakra.
Malas are powerful and symbolic tools for meditation and every gemstone is said to have different properties, energies, and meaning. Gemstone malas are meaningful jewelries you can wear on body as necklace & bracelet or utilize during meditation. 

All malas & bracelets are smudged (cleansed) by Sage with love and positive vibes before delivery.
*108 has been considered a sacred number in yoga.
Length: 55 cm (including the tassel); Bead diameter: 8 mm; Sterling silver Mandala (925 percent), Mandala figure represents the universe in Hindu and Buddhist symbolism.
---
More from this collection